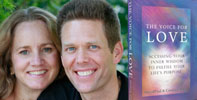 For those in southern Oregon (or on the west coast of the US), check this out!… I'm very much looking forward to attending, as well as enjoying letting folks know about this relatively infrequent opportunity…
Join DavidPaul Doyle and Candace Doyle for a 6 hour workshop you won't forget on how to hear the Voice of the Holy Spirit as a distinct and conversational voice within you. DavidPaul and Candace are the authors of The Voice for Love: Accessing Your Inner Wisdom to Fulfill Your Life's Purpose. DavidPaul Doyle is also the best-selling author of When God Spoke to Me: The Inspiring Stories Of Ordinary People Who Have Received Divine Guidance and Wisdom. DavidPaul and Candace have taught tens of thousands of people worldwide how to hear God's voice within. They have also been presenters at the past two world-wide A Course in Miracles Conferences in San Francisco. If you want to deepen your experience of receiving divine guidance and communication under any and all circumstances in your life in a very clear and recognizable way, don't miss this unique opportunity to join DavidPaul and Candace for a workshop right here in Ashland.
First Come, First Serve – Limited to 40 attendees; register early!
Workshop Title: The 5-Steps to Hearing the Voice for God
Presenters: DavidPaul Doyle and Candace Doyle
Date and Time: Saturday, June 5, 2010 from 10 AM to 5 PM
Location: The Peace House, 543 South Mountain Avenue, Ashland, Oregon 97520 (map)
Cost: $50; more info here…
UPDATE! There will be a free introductory evening at the Peace House the evening before (Friday, June 4, 2010) at 7:30PM with Candace & DavidPaul, preceded by a potluck at 6PM; all are invited! 🙂