Here are some musical compositions – and he did the animated piano above, too! – by lifelong friend, David Van Dyke. I have admired his creative work for half a century! 🙂
Here are Dave's notes about the music:
Hello! My friend Bruce Rawles has been nice enough to give me (Dave Van Dyke) a place on his site to make my music available to everyone. The music is free for any non-commercial use, although if you really enjoy it please consider making a small donation via PayPal using the link below. Any amount is appreciated from $1 to $100,000. (:O)

If you have a commercial project, and are considering using my music, please contact me using the form farther down the page.
A Walk beside the River:
(All rights reserved © 2017 Dave Van Dyke)
One of my favorite places to go hiking is in the San Isabel national Forest (Colorado). The St. Charles River flows through this area and it has many moods. As the river comes down to Marion mine there are a number of waterfalls. Beyond the mine it has a gentler character with pools of ice cold water that are a real boon to hot, tired feet. Beyond that there are rapids that invite you to sit beside the river and listen to its music. "The River" in the title of this piece, is a metaphor for Life and the many experiences we encounter as we move through it.
---
Coming Home:
(All rights reserved © 2017 Dave Van Dyke)
---
Free at Last:
(All rights reserved © 2017 Dave Van Dyke)
---
Little Star:
(All rights reserved © 2017 Dave Van Dyke)
---
River Romp:
(All rights reserved © 2017 Dave Van Dyke)
I love to watch rivers and streams when I go hiking. The water seems to be having fun, splashing its' way along, sparkling in the sunlight, and making that beautiful, gentle sound that is so inviting.
---
Here's a frame from a work-in-progress sci-fi animation "The Ancient Dream" from Dave:
… and an airbrush painting he did many years ago: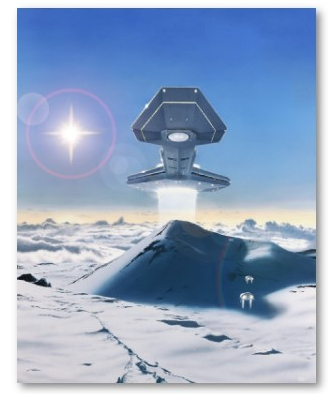 If you want to communicate with Dave, here's a form to respond to him:
If you feel inspired to express your appreciation to Dave for this content shared, here is a PayPal Donate button that will supports his labors of love:
… and you can also connect via Dave's Facebook page.
---
All music, animation and imagery Copyright © 2017 by David Van Dyke