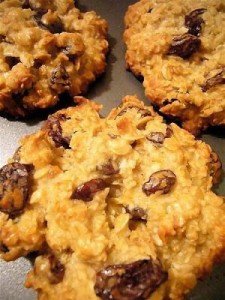 3 mashed ripe bananas
2 cups oats
1/3 cup apple sauce
1/4 cup almond milk
1 tsp cinnamon
1 tsp vanilla
Optional: 1/2 cup raisins or dried cranberries and/or nuts (e.g. sunflower seeds) and/or shredded coconut.
… Mix thoroughly and bake at 350 degrees for 15-20 minutes.
(I think I found this on someone's FaceBook post; not sure who to give credit to, but I sure like the recipe! Super quick, easy, tasty … and chewy 🙂
… Update 31May2013: I just ran across the source of this recipe.